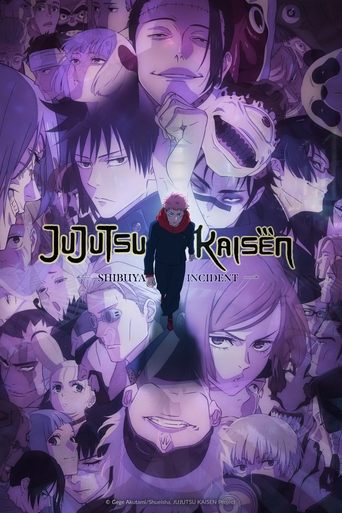 Jujutsu Kaisen - Season 1 Episode 38 Fluctuations
A boy fights... for "the right death."
Mei Mei and Ui Ui fight the Special-Grade Disease Curse summoned by whatever is pretending to be Suguru Geto. Meanwhile, Nanami joins up with Maki and Naobito, but they encounter a cursed spirit with unknown powers.
Year:

2023

Country:

Japan

Genre: Animation, Action & Adventure, Sci-Fi & Fantasy
Studio: MBS, TBS, CBC, Tulip Television, SBC, BSN, tys, HBC, RKK Kumamoto Broadcasting, Nagasaki Culture Telecasting Corporation, i-Television, SBS TV, IBC Iwate Broadcasting, BSS, Hokuriku Broadcasting, Oita Broadcasting System, TV-U Fukushima, RSK, TV-U Yamagata, Tohoku Broadcasting, RKB, TV Kochi Broadcasting, Ryukyu Broadcasting, TV Yamanashi, RCC, MRT Miyazaki Broadcasting, ATV, MBC South Japan Broadcasting
Keyword: martial arts, supernatural, exorcism, possession, secret organization, sorcery, paranormal, tragedy, curse, sorcerer, school, based on manga, spirit, demon, demonic possession, dark fantasy, school life, youkai, shounen, anime, incarnation, occultism, cursed object
Director:
Cast: