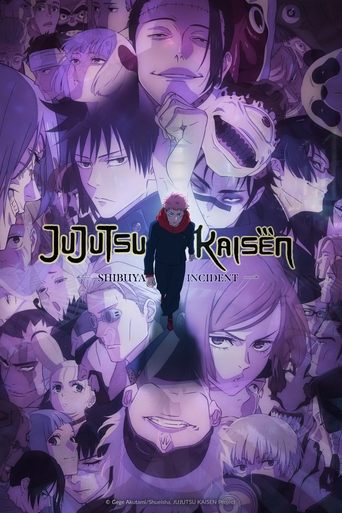 Jujutsu Kaisen - Season 1 Episode 36 Dull Knife
A boy fights... for "the right death."
Yuji and Megumi lift the veil that was keeping sorcerers from entering Shibuya. Nobara and Nitta encounter Shigemo and a battle ensues. Shigemo has the upperhand, but then Nanami arrives with the deaths of the assistant supervisors in mind.
Year:

2023

Country:

Japan

Genre: Animation, Action & Adventure, Sci-Fi & Fantasy
Studio: MBS, TBS, CBC, Tulip Television, SBC, BSN, tys, HBC, RKK Kumamoto Broadcasting, Nagasaki Culture Telecasting Corporation, i-Television, SBS TV, IBC Iwate Broadcasting, BSS, Hokuriku Broadcasting, Oita Broadcasting System, TV-U Fukushima, RSK, TV-U Yamagata, Tohoku Broadcasting, RKB, TV Kochi Broadcasting, Ryukyu Broadcasting, TV Yamanashi, RCC, MRT Miyazaki Broadcasting, ATV, MBC South Japan Broadcasting
Keyword: martial arts, supernatural, exorcism, possession, secret organization, sorcery, paranormal, tragedy, curse, sorcerer, school, based on manga, spirit, demon, demonic possession, dark fantasy, school life, youkai, shounen, anime, incarnation, occultism, cursed object
Director:
Cast: