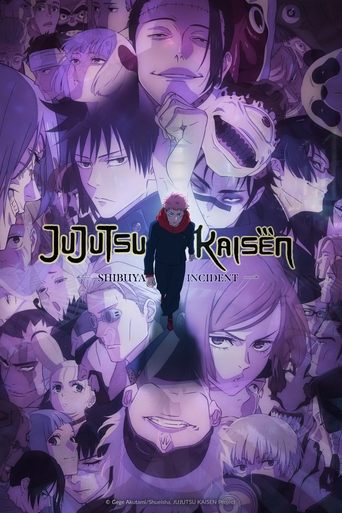 Jujutsu Kaisen - Season 1 Episode 27 Hidden Inventory 3
A boy fights... for "the right death."
Gojo and Geto beat back the curse users after the bounty placed on Amanai's head when her cell phone rings. A captured Kuroi is displayed on her phone. Gojo tries to bring Amanai back to Jujutsu High, but she insists on going to the negotiations herself.
Year:

2023

Country:

Japan

Genre: Animation, Action & Adventure, Sci-Fi & Fantasy
Studio: MBS, TBS, CBC, Tulip Television, SBC, BSN, tys, HBC, RKK Kumamoto Broadcasting, Nagasaki Culture Telecasting Corporation, i-Television, SBS TV, IBC Iwate Broadcasting, BSS, Hokuriku Broadcasting, Oita Broadcasting System, TV-U Fukushima, RSK, TV-U Yamagata, Tohoku Broadcasting, RKB, TV Kochi Broadcasting, Ryukyu Broadcasting, TV Yamanashi, RCC, MRT Miyazaki Broadcasting, ATV, MBC South Japan Broadcasting
Keyword: martial arts, supernatural, exorcism, possession, secret organization, sorcery, paranormal, tragedy, curse, sorcerer, school, based on manga, spirit, demon, demonic possession, dark fantasy, school life, youkai, shounen, anime, incarnation, occultism, cursed object
Director:
Cast: