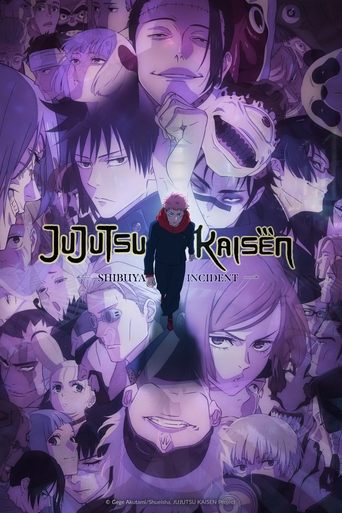 Jujutsu Kaisen - Season 1 Episode 26 Hidden Inventory 2
A boy fights... for "the right death."
Gojo and Geto are assigned to the mission of escorting and erasing the young girl compatible with the Tengen - the Star Plasma Vessel. Amanai Riko is being targeted by the Curse User Group Q, and the religious cult the Star Religious Group.
Year:

2023

Country:

Japan

Genre: Animation, Action & Adventure, Sci-Fi & Fantasy
Studio: MBS, TBS, CBC, Tulip Television, SBC, BSN, tys, HBC, RKK Kumamoto Broadcasting, Nagasaki Culture Telecasting Corporation, i-Television, SBS TV, IBC Iwate Broadcasting, BSS, Hokuriku Broadcasting, Oita Broadcasting System, TV-U Fukushima, RSK, TV-U Yamagata, Tohoku Broadcasting, RKB, TV Kochi Broadcasting, Ryukyu Broadcasting, TV Yamanashi, RCC, MRT Miyazaki Broadcasting, ATV, MBC South Japan Broadcasting
Keyword: martial arts, supernatural, exorcism, possession, secret organization, sorcery, paranormal, tragedy, curse, sorcerer, school, based on manga, spirit, demon, demonic possession, dark fantasy, school life, youkai, shounen, anime, incarnation, occultism, cursed object
Director:
Cast: